We've been awaiting and anticipating for a project lined in our long discussed agenda. It's finally accomplished!
Some months ago, we were approached and came to know about
MidouCeur
, which means "my gentle touch" in a mix of Spanish and French. An online shop that sells matchy family, Mother and daughter apparels. I love such dress ups!
After a very long consideration, together with the man and Js, we agreed to model for them. We did a 3 hours morning photoshoot at Admiralty park, which was quite arduous for us, especially the kids. I do enjoy that bit of photoshoot, but being outdoor and warm were not very much to our favour. With little rests in between, we tried as quickly as possible to end our shoots before the mid sun greets us.
At the end of this shoot, having done 2 family sets and 7 Mother daughter matchy apparels, I was very thankful to Jazz. Very proud of her. She was visibly exhausted and asked for a total halt towards the last few wears. I felt really bad, but encouraged her to finish our shoot before calling it quits. Even though she didn't give her best smile or expressions, I'm glad we persevered and completed together. Bringing our dog, Pillow into the picture was probably the best motivation that kept her going so far.
Much stories within, I'm glad we accomplished our mission and here are some of our favourite rewards, that we got to keep from MidouCeur. They have very nice family sets and Matchy Mother daughter wears. Highly affordable, with some being interesting and uniquely designed by them. I love it that they have wears for all occasions. From the really causal to the more formal looking.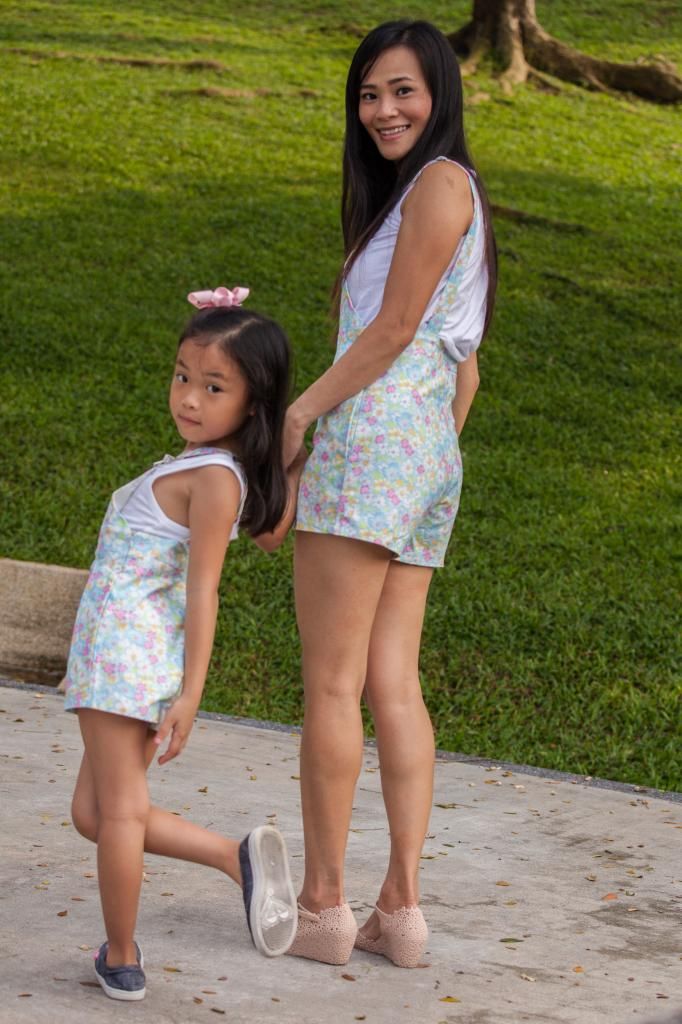 Lovely rompers, except that the straps kept falling off the shoulders
Jazz chose this set of apparel
I have a special love for matchies! It seemed like my only few years before my 2 mini me decide not to dress like a copy of me. For now, I think Jazz sees happiness in copying me. She imitates when I lunge towards the mirror to apply my mascara, she loves putting on little accessories like me, asks to paint her nails and you know she can't wait to grow up when she asks, "Mummy, when can I put on make up like you?" While the list goes on, I'll only tell her, "Take your time to grow up, there's no hurry." Let's enjoy our matchy moments! How wonderful that we Mothers are their idols to look up to.
So yeap, it was a very experiencing session for all of us. I never knew we could do it! Thanks for this opportunity MidouCeur!
For this collaboration, MidouCeur is giving all Mum's calling readers a 10% off all purchase of apparels. Enter the following promotion code:
mumscalling10
upon checkout. Promotion valid only till 30 November 2014. Do stay tune for an upcoming contest on their website and facebook page.
If you're petite with some loose cellulite like me, S sizes would fit perfect. Jazz is 5 years old and about 110cm tall, M fits her well. Some of the shots in S were a tad too small. My man's tall and lean, S fits him well. Jareth is 3 and the polo tee as above was too huge, it was M. S would fit him well.
Interestingly, you don't have to purchase a full set or a pair if you don't require. You may just buy the individual pieces you desire. They provide free alteration and refund/exchange if sizing don't fit. I tend to fear purchasing online apparels, unless I've purchased them before. The good deal here is, they have a home-based shop in Tampines, so feel free to make an appointment for fitting. They do free alteration as well, for kids' apparel and length reduction for dresses. You may send any queries to MidouCeur, they are a bunch of friendly people.
Website:
http://www.midouceur.com/
Facebook:
https://www.facebook.com/MidouCeur
Contact: admin@midouceur.com
Disclaimer: We were offered a photoshoot session and 4 sets of apparels to keep for modelling with MidouCeur. No monetary compensation was given. All opinions are solely ours. Photos are all credited to MidouCeur.